Comparativo de kits de conversión
| | KIT 72V |
| --- | --- |
| Peso Vehículo | 1.310 kg |
| Motor | 7.5 kW |
| Autonomía Promedio (Km)1 | 180-120 |
| Precio aprox. CFR | Desde $9.500 USD |
Vehículos Livianos Particulares
Ej.: Volkswagen Escarabajo, Renault Clio, Renault Twingo, Fiat Topolino, Chevrolet Sprint, Suzuki LJ, Chevrolet Corsa, Chevrolet Swift, Hyundai Atos entre otros. Modo de manejo Moderado para aumentar autonomía
Conversion kit comparison
| | KIT 72V |
| --- | --- |
| Vehicle Weight | 1.310 kg |
| Motor | 7.5 kW |
| Average Autonomy (Km)1 | 180-120 |
| Approximate Price. CFR | Since $9.500 USD |
Private Light Vehicles
Ej.: Volkswagen Escarabajo, Renault Clio, Renault Twingo, Fiat Topolino, Chevrolet Sprint, Suzuki LJ, Chevrolet Corsa, Chevrolet Swift, Hyundai Atos. Moderate driving mode to increase autonomy
Comparativo de kits de conversión
Vehículos Livianos Particulares
Ej.: Volkswagen Escarabajo, Renault Clio, Renault Twingo, Fiat Topolino, Chevrolet Sprint, Suzuki LJ, Chevrolet Corsa, Chevrolet Swift, Hyundai Atos entre otros. Modo de manejo Moderado para aumentar autonomía
Conversion kit comparison
Private Light Vehicles
Ej.: Volkswagen Escarabajo, Renault Clio, Renault Twingo, Fiat Topolino, Chevrolet Sprint, Suzuki LJ, Chevrolet Corsa, Chevrolet Swift, Hyundai Atos. Moderate driving mode to increase autonomy
¿Como escojo mi kit?
How do I choose my kit?
1.
Calcula el peso del vehículo que deseas convertir, incluyendo motor y accesorios originales así como total capacidad de pasajeros
Calculate the weight of the vehicle you want to convert, including engine and original accessories as well as total passenger capacity
2.
Los kits están preparados para trabajar en pesos máximos.
Kits are prepared to work in maximum weights.
Kit 108V - 1800 Kg
Kit 144V - 2200 Kg
Consideraciones
Se puede seleccionar un kit más potente si se desea, pero nunca uno por debajo de las necesidades del peso inicial del vehículo.
En este caso se maneja:
Solo pagas 5% del IVA
por los equipos de la conversión
Considerations
A more powerful kit can be selected its desires, but never one that is less than the starting weight of the vehicle needs.
In these case it works like this:
You only pay 5% of IVA
of the conversion kits
Cotiza tu conversión ahora
Ask for your conversion
Click aquí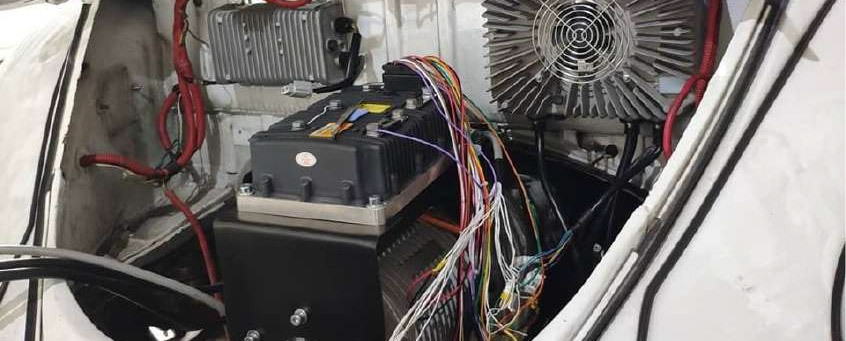 ¿Qué vehículos pueden convertirse?
Todos los automóviles que funcionen con gasolina, diésel, gas o GLP pueden pasarse a la energía eléctrica.
No importa si son de tracción delantera, trasera o 4X4, ya que la transmisión se conserva y el nuevo motor eléctrico funciona sobre ella. Esto hace que los vehículos pequeños y las camionetas sean aptas para el cambio.
What vehicles can be converted?
All cars running on gasoline, diesel, gas or LPG can be converted to electric power.
It doesn't matter if they're front-wheel drive, rear-wheel drive or 4X4, since the transmission is preserved and the new electric motor runs on it. This makes small cars and trucks suitable for the change.
Beneficios de ser 100% Eléctrico
Benefits of being 100% Electric
No volver hacer un cambio de aceite, bujías, bobinas de encendido o filtros
Not changing oil, spark plugs, ignition coils or filters again
Reducción de un 60% en costos de mantenimiento
60% reduction in maintenance costs

Hasta 70% menos en gastos de combustible
Up to 70% less on fuel costs
2 y 3 toneladas de Co2 eliminadas anualmente por vehículo, beneficio para las personas y el medio ambiente
2 and 3 tons of Co2 eliminated annually per vehicle, benefit for people and the environment
En Colombia los carros eléctricos no tienen pico y placa según la Ley 1964 del 11 de julio de 2019
In Colombia, electric cars don't have "pico y placa" according to Law 1964 of July 11, 2019